Welcome to Gothenburg for the
10th Nordic Course in Trauma Radiology
from Monday 21st to Thursday 24th of May 2018.

We are proud to present an exciting three and a half-day program featuring a wide range of topics presented by a distinguished national and international faculty. The goal is to provide both basic and advanced knowledge for residents and attending radiologists as well as anybody working in the field of trauma.
The course covers current topics and trends of trauma radiology featuring the basics as well as the state-of-the-art. The topics are relevant to beginners and advanced practitioners alike. The final program and full speaker list will be published during February 2018.
Course language is English and course site is near Sahlgrenska University Hospital, Gothenburg, Sweden. Course fee is SEK 7500, coffee and lunch included. Course fee including course dinner is SEK 7800.

Download flyer

Online registration starts in December 2017.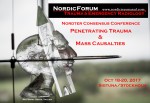 2017-11-06: Updates can be found under Trauma Topics - Miscellaneous - Report from Three Major Hospitals in a South African - Swedish Collaboration - Trauma Imaging Referrals and Findings
Update from Röntgenveckan 2016 available under topic Trauma CT.
2017 - 2018 NORDTER board (PDF-file)
The aim of this website is to promote and develop trauma radiology work in the Nordic countries.
Since 2000 we have arranged biannual Nordic courses in Trauma Radiology with a faculty incorporating US, European and Nordic radiologists well experienced in trauma work. The courses gained a lot attention with more than 700 participants all together. This and other trauma radiological work has been partly presented at this website.
The field of trauma and emergency radiology is established since 15 years in the United States and focus on trauma is increasing in the Nordic countries. In a time of subspecialization, we also feel the need to focus on the subject of emergency radiology.
We have thus together decided to establish an association for both trauma and emergency radiology with participation from the Nordic countries, Nordic Forum for Trauma and Emergency Radiology, (NORDTER).
The association is open to membership for physicians regardless of speciality, researchers and all others interested in trauma and emergency radiology. The aim will be to open a broad forum to exchange knowledge and ideas, to generate educating discussions, and to seek cooperation with other Nordic and international organizations.
If you are interested to contribute to or join the Forum, please contact: nordictraumarad@gmail.com for further information.
The website is the belongs to Nordic Forum for Trauma and Emergency Radiology.

Chairman Henrik Teisen, Ringsted County Hospital, Denmark
Secretary Eva-Cecilia Salmonsson, Lunds University Hospital, Sweden
Treasurer Henrik Lehmann, Karolinska University Hospital, Huddinge, Sweden

Nordic Members of the Board:
Johann Baptist Dormagen, Oslo, Norway
Lise Loft Nagel, Århus, Denmark
Frank Bensch, Helsingfors, Finland
Johannes Godt, Oslo, Norway