Welcome to
EMERGENCY RADIOLOGY
7th Nordic Course May 13th – 16th, 2019 OSLO, NORWAY
Welcome to Oslo and the 7th Nordic Course in Emergency Radiology from Monday 13th to Thursday 16th of May 2019! We are very proud to present an exciting 3.5 days program with international faculty and speakers. The main goal of our course is to supply junior and senior radiologists and technicians with basic and advanced knowledge in emergency imaging. Oslo, the capital of Norway, is located at the northernmost end of the beautiful Oslofjord. Oslo is the fastest growing capital in all of Europe, with amazing changes going on in everything from local cuisine to architecture. Come take part in the excitement, and you will discover a city surprisingly rich in culture – and close to nature. If you stay an additional night, you will have the unique possibility to celebrate the Norwegian National day at 17th of May. There are direct flights to Oslo from most major cities in Scandinavia and Europe, and from some cities in North America and Asia. Oslo can also be reached by ferry from Copenhagen, Frederikshavn and Kiel and has excellent train connections. Download flyer Download Program

New for 2019
Joint ESER & NORDTER Emergency Radiology Workshop
Sunday 12th May 2019
Limited to 40 places and only participants of the 7th Nordic Course in Emergency Radiology 2019 will be eligible to attend. A hands-on workshop for Residents and Senior doctors who want to get practical experience in interpreting emergency imaging. Case-based & interactive. Cases are reviewed on a workstation in a 'virtual' emergency Radiology Department. Our friendly and experienced facilitators, expert in their field, will lead group discussion and learning points. A workbook for each session is provided including learning points, key images, targeted references and further resources. Download flyer
To ensure correct registration of every participant please register only one person per registration. Please ensure that your name is noted correctly at checkout. Participation is guaranteed only after payment is received. Cancellation fee before April 20th is 500 NOK. After this date cancellation is possible only by exchange of participant. Coffee and lunch are included. If you have any dietary restrictions or food allergies, please state your request in the field [ADD INFORMATION] at checkout. The subscribed course dinner will be held Tuesday night, May 14th 2019. Course fee has been changed to SEK for technical reasons. If you choose to pay by "bank transfer" there will be other currency options: Course, workshop and dinner: 10400 SEK or 9750 NOK or 1040 EUR. Course and workshop: 10100 SEK or 9450 NOK or 1010 EUR. Course and dinner: 8300 SEK or 7750 NOK or 830 EUR. Course only: 8000 SEK or 7450 NOK or 800 EUR.
Emergency Radiology including workshop
Price:
10,400 kr
Emergency Radiology (no workshop)
Price:
8,300 kr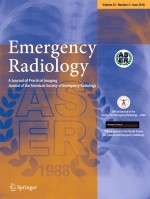 Emergency Radiology
A Journal of Practical Imaging Official Journal of the American Society of Emergency Radiology
Editor-in-Chief: R.J. Zagoria
Journal of the American Society of Emergency Radiology (ASER)
Official Journal of the Society for Emergency Radiology - India
Official Journal of the Nordic Forum for Trauma and Emergency Radiology
92% of authors who answered a survey rated the overall publishing precess as excellet or good
Download flyer
or visit
Emergency Radiology at springer.com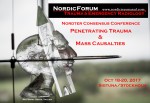 2017 - 2018 NORDTER board (PDF-file)
The aim of this website is to promote and develop trauma radiology work in the Nordic countries.
Since 2000 we have arranged biannual Nordic courses in Trauma Radiology with a faculty incorporating US, European and Nordic radiologists well experienced in trauma work. The courses gained a lot attention with more than 700 participants all together. This and other trauma radiological work has been partly presented at this website.
The field of trauma and emergency radiology is established since 15 years in the United States and focus on trauma is increasing in the Nordic countries. In a time of subspecialization, we also feel the need to focus on the subject of emergency radiology.
We have thus together decided to establish an association for both trauma and emergency radiology with participation from the Nordic countries, Nordic Forum for Trauma and Emergency Radiology, (NORDTER).
The association is open to membership for physicians regardless of speciality, researchers and all others interested in trauma and emergency radiology. The aim will be to open a broad forum to exchange knowledge and ideas, to generate educating discussions, and to seek cooperation with other Nordic and international organizations.
If you are interested to contribute to or join the Forum, please contact: nordictraumarad@gmail.com for further information.
The website is the belongs to Nordic Forum for Trauma and Emergency Radiology.

Chairman Henrik Teisen, Ringsted County Hospital, Denmark
Secretary Eva-Cecilia Salmonsson, Lunds University Hospital, Sweden
Treasurer Henrik Lehmann, Karolinska University Hospital, Huddinge, Sweden

Nordic Members of the Board:
Johann Baptist Dormagen, Oslo, Norway
Lise Loft Nagel, Århus, Denmark
Frank Bensch, Helsingfors, Finland
Johannes Godt, Oslo, Norway